WELCOME TO STROTHERS CINEMA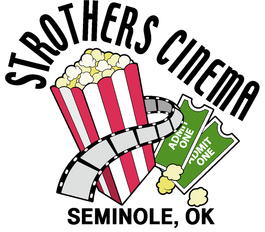 1110 E. Strother
Seminole, OK
Movie Line - 405.382.7254

Admission Prices - Adults $6.00, Children 12 & Under $5.00
Seniors over 65 $5.00
Matinees before 6 PM - Adults - $5.00 Children 12 & under $4.00
All 3D Shows - $2.50 surcharge



Showtimes Listed Below

STARTING FRIDAY FEB. 6
"SPONGEBOB SQUAREPANTS: SPONGE OUT OF WATER"
Sign Up For Our Loyalty Reward Program and Earn Free Tickets
Click on the Movie Posters to View Trailers
---
AMERICAN SNIPERRated R2 hr. 14 min.Fri. - 4:15, 7:05 & 9:50Sat. - 3:05, 6:55 & 9:50Sun. - 3:05 & 6:55Mon. - Thur. - 4:30 & 7:20BUY TICKETS HERE
---
STRANGE MAGIC
Rated PG
1 hr. 39 min.
Fri. - 4:45, 7:00 & 9:15
Sat. - 2:55, 5:05. 7:15 & 9:25Sun. - 2:55, 5:05 & 7:15Mon. - Thur. - 4:45 & 7:00BUY TICKETS HERE
---
Don't want to get left out of a show? Click on the Movie Ticket link above to purchase tickets online for all shows and all dates. A barcode and receipt number will be printed or downloaded to your phone once your transaction is complete. Bring that barcode, printed receipt number or your credit card to Strothers Cinema to pick up your tickets. It's as easy as that.
We'll see you at the movies!


GIFT CARDS MAKE PERFECT GIFTS

Strother's Cinema Gift Cards make great gifts and rewards for students, employees, friends and family. Gift Cards can be purchased for any amount you request and can be reloaded with money once the original amount is used up. Get your Gift Cards today at Strother's Cinema.