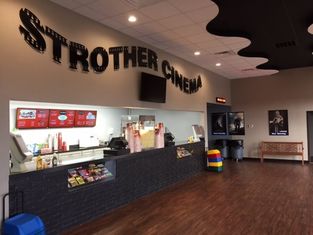 Strother Cinema is an independent movie theater locally owned and operated by the Schoaps Family of Seminole, OK. The cinema has been operating at its current location and showing first run movies for over thirty years. Since 2005, many improvements have been made to the theater including state of the art NEC digital projectors, RealD 3D processors, new screens and JLB Dolby 5.1 digital surround sound in both theaters, providing the best and most up to date picture and sound available in theater exhibition today. In addition, the theater was completely renovated in 2017 including all new seating, new concession areas, new bathrooms and a complete overhaul of the lobby. Both theaters seat 191 patrons each and matinees and evening shows are exhibited every night throughout the year except one - we are closed on Christmas Eve. A full concession stand is available for our patrons convenience. During the summer and holiday seasons, we have matinees and late shows each and every day. Showtimes are available on our movie line (405-382-7254) and on our website, www.seminolemovies.com. You can also like us on Facebook and follow us on Twitter to get the latest announcements about coming attractions and specials. Tickets may be purchased on our website or at the box office.

The theater is available for parties and special showings such as schools, churches and other groups. Contact Steve Schoaps at 405-382-7259 for more information or email us at strotherscinema@sbcglobal.net or just click the "Contact Us" page above. We are eager to serve the people of Seminole County and the surrounding areas and mean it when we say
"We'll see you at the movies!"